Voltex Hybrid Water Heaters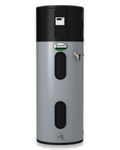 The Voltex® hybrid electric heat pump water heater more than lives up to its impressive reputation. The 50, 66 and 80-gallon models use heat pump technology, which means more energy stored, resulting in increased savings. And the consumer-friendly display is simple to operate and provides easy-to-understand feedback on operational status.
ENERGY STAR® qualified
Four operating modes: Efficiency, Hybrid, Electric, Vacation
Conserves energy with up to 3.24 Energy Factor (EF) rating
Click Here for a product brochure.